Chef: Christina Wylie, Koh Samui Thailand
Christina Wylie is an award-winning writer, author, editor, food stylist, recipe creator, entrepreneur, and radio host whose work has been featured in The Times & The Sunday Times, Time Out (Melbourne, Sydney, Hong Kong and Dubai), Traveler's Digest, Fah Thai Magazine, Broadsheet, Wining & Dining and many other well-known international publications. In 2013, after nearly a decade working as an international journalist, Christina founded the online lifestyle magazine The GAB Magazine, where she now leads a team of 60 writers across the country. Australia.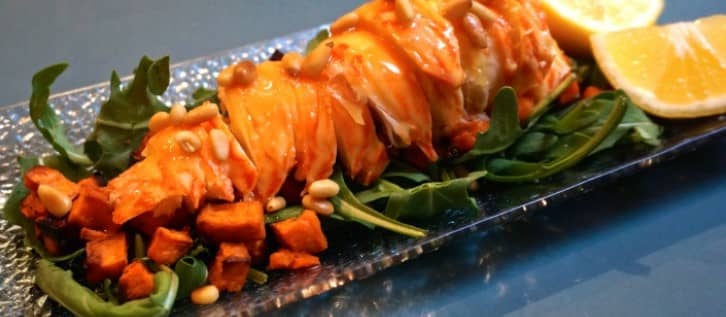 Sous vide lobster is very tender and soft – perfect for mopping up a great garlic-butter sauce. And using the temperature and time given here, there's no chance of overcooking it and ending up with rubbery lobster. Note: To remove the lobster shell, spear the bottom of the lobster tail with a skewer and boil in a pot of water for 30 seconds. Then de-shell.
Ingredients for 1
1 lobster tail, shell removed
Salt and freshly ground black pepper
2 tablespoons unsalted butter
1 small sweet potato, sliced into 1-inch pieces
3 sprigs thyme
3 sprigs rosemary
1 tablespoon extra virgin olive oil
1 clove garlic, minced
1 cup baby arugula
2 tablespoons pine nuts, toasted
1/2 lemon, sliced into wedges
Directions
Step 1
Set the BioloMix Sous Vide Cooker to 129ºF (54ºC). Heat the oven to 410ºF (210ºC).
Step 2
Lightly season the lobster with salt and pepper. Place in a medium zipper lock or vacuum seal bag with 1 tablespoon butter. Seal the bag using the water immersion technique or a vacuum sealer on the moist setting. Place in the water bath and set the timer for 30 minutes.
Step 3
Meanwhile, roast the sweet potatoes: In a medium bowl, toss the sweet potato pieces with the thyme, rosemary, and olive oil. Season with salt and pepper. Transfer to a rimmed baking sheet. Transfer to the oven and roast, stirring halfway through, until the potatoes are browned and tender, about 30 minutes.
Step 4
Melt the remaining tablespoon butter in a small skillet over medium-high heat. Add the garlic and and 2 teaspoons water. Season with salt. Bring to a simmer and cook until the garlic is softened, 1 to 3 minutes.
Finishing Steps
Step 0
When the timer goes off, remove the bag from the water bath. Carefully remove the lobster from the bag and transfer to a cutting board. Slice into thin medallions.
Step 1
In a medium bowl, toss the arugula and roasted potatoes with half of the garlic-butter sauce. Transfer to a serving plate. Top with the lobster.
Step 2
Drizzle the remaining garlic-butter mixture over the lobster. Scatter pine nuts over the lobster and serve with lemon wedges.