Chef: Christina Wylie, Koh Samui Thailand
Christina Wylie is an award-winning writer, author, editor, food stylist, recipe creator, entrepreneur, and radio host whose work has been featured in The Times & The Sunday Times, Time Out (Melbourne, Sydney, Hong Kong and Dubai), Traveler's Digest, Fah Thai Magazine, Broadsheet, Wining & Dining and many other well-known international publications. In 2013, after nearly a decade working as an international journalist, Christina founded the online lifestyle magazine The GAB Magazine, where she now leads a team of 60 writers across the country. Australia.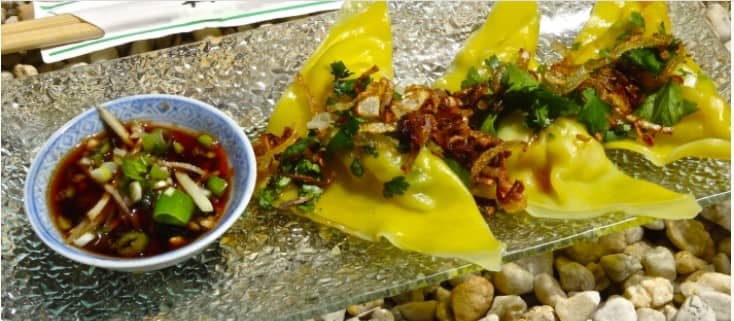 Who doesn't love wontons? When cooked sous vide with this novel method, the wonton wrappers come out silky smooth, and unlike what often happens with vigorous boiling, the prawn meat is not overcooked in the slightest. This dipping sauce helps to lift out all the flavours in the wontons, while the coriander (cilantro) on top adds freshness and the crispy shallots bring an element of crunch. It's a very well-rounded Asian dish that can be enjoyed as a starter, snack or side dish. This recipe makes around 25 wontons. If you don't want to eat them all immediately you can freeze some and then boil or steam them at a later stage. To make fried shallots, peel one medium shallot and slice into thin rings. Heat 1–2 inches of vegetable oil in a small saucepan for 5 minutes. Add the shallots and fry until golden brown. Remove from hot oil using a slotted spoon and drain on paper towels. Season to taste with salt. Note: Wontons can be filled and frozen ahead of time. To freeze, spread wontons in a single layer on a baking sheet. Place in freezer until fully frozen, 30 minutes to 1 hour. Transfer frozen wontons to a zipper lock bag and return to the freezer.
Ingredients for 6
1/4 cup plus 2 tablespoons soy sauce
1/4 cup plus 2 tablespoons and 1 teaspoon sesame oil
2 tablespoons hot chile sauce
3 tablespoons minced scallions
1 inch ginger, sliced into thin strips, plus 1 1/2 teaspoons minced fresh ginger
1 1/2 cups chopped shrimp (about 1 pound)
1 tablespoon finely chopped water chestnuts
7 tablespoons chopped fresh cilantro
2 large egg whites
1 (8-ounce / 250g) package wonton wrappers
1/4 cup fried shallots
Directions
Step 1
Make dressing: In a medium bowl, combine 1/4 cup soy sauce and 1/4 cup sesame oil. Set aside.
Step 2
Make dipping sauce: In a second medium bowl, combine remaining 2 tablespoons soy sauce, 2 tablespoons sesame oil, hot chile sauce, 2 tablespoons minced scallions, and ginger strips in a medium bowl. Divide between 6 serving bowls. Set aside.
Step 3
Set the BioloMix Sous Vide Cooker to 185ºF (85ºC).
Step 4
Make wontons: In a large bowl, combine chopped shrimp, water chestnuts, remaining 1 tablespoon minced scallions, 1 tablespoon cilantro, 1 egg white, minced ginger, and remaining 1 teaspoon sesame oil. Mix until well combined.
Step 5
Lay one wonton wrapper on a clean, dry surface. Brush edges of wonton wrapper with some of the remaining egg white.
Step 6
Spoon approximately 1 to 2 teaspoons of shrimp mixture in the middle of the wrapper.
Step 7
Fold the wrapper in half to form a triangle and press firmly on the edges to seal.
Step 8
Repeat filling and folding steps until all of the wrappers and filling are used.
Step 9
Place about 5 wontons at a time into the water bath and set the timer for 7 minutes. When the timer goes off, use a slotted spoon to carefully remove the wontons from the water bath. Place on a large plate. Repeat with remaining wontons.
Finishing Steps
Step 0
To serve, place 3 to 4 wontons on each serving plate. Drizzle with dressing and top with fried shallots and remaining cilantro. Serve with dipping sauce on the side. Enjoy!
#BioloMix #sousvide