Chef: Christina Wylie, Koh Samui Thailand
Christina Wylie is an award-winning writer, author, editor, food stylist, recipe creator, entrepreneur, and radio host whose work has been featured in The Times & The Sunday Times, Time Out (Melbourne, Sydney, Hong Kong and Dubai), Traveler's Digest, Fah Thai Magazine, Broadsheet, Wining & Dining and many other well-known international publications. In 2013, after nearly a decade working as an international journalist, Christina founded the online lifestyle magazine The GAB Magazine, where she now leads a team of 60 writers across the country. Australia.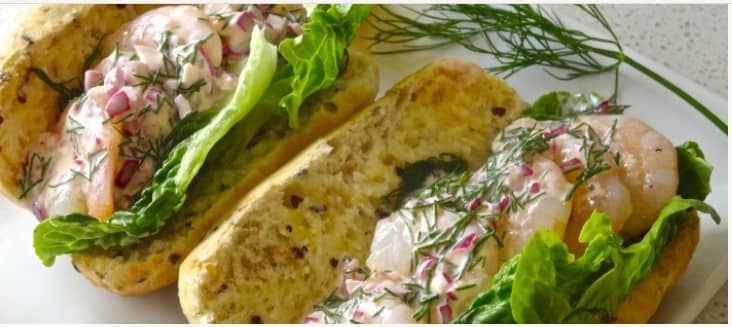 This is a modern take on the old-school favourite prawn cocktail. Prawns and shrimps are notoriously easy to overcook, but with sous vide cooking you avoid that potential pitfall. When cooked for 15 minutes at 65ºC, they are juicy and soft – perfect when combined with the fresh dill and mayonnaise dressing. Note: If you have larger prawns, you may want to cook them for a bit longer (and in that case you'll need fewer, too). Although this recipe makes just four dinner rolls, you can multiply the ingredients as necessary. These sous vide prawn cocktail sliders are just as great as a meal for two as they are for entertaining, or even better, for a picnic. Have napkins handy because they can get a little messy!
Ingredients for 2
10 small shrimp, peeled and deveined
Kosher salt and freshly ground black pepper
4 tablespoons chopped fresh dill
1 tablespoon unsalted butter
4 tablespoons mayonnaise
2 tablespoons minced red onion
2 teaspoons freshly squeezed lemon juice, plus 2 lemon wedges, for servin
2 teaspoons ketchup
Tabasco, to taste
4 small oblong dinner rolls
8 small leaves butter lettuce
½ a lemon, sliced into wedges
Directions
Step 1
Set the BioloMix Sous Vide Cooker to 149ºF (65ºC). Make dressing by mixing together mayonnaise, lemon juice, ketchup, red onion and Tabasco in a small bowl and set aside
Step 2
Lightly season the shrimp with salt and pepper. Divide the shrimp between 2 zipper lock bags. Add 1 tablespoon dill and 1/2 tablespoon butter to each bag. Seal the bags using the water immersion method, taking care that the shrimp are in one single layer. (Alternatively, seal the shrimp, dill, and butter in 1 vacuum seal bag, keeping the shrimp in one layer.)
Step 3
Place the bags in the water bath and set the timer for 15 minutes.
Step 4
While the shrimp are cooking, make the dressing: In a medium bowl, combine the mayonnaise, remaining 2 tablespoons dill, red onion, lemon juice, and ketchup. Season to taste with Tabasco, salt, and pepper.
Step 5
Warm the rolls in a 400ºF (200ºC) oven for 5 to 10 minutes. Remove, and slice in half lengthwise, leaving one long side intact.
Finishing Steps
Step 0
When the timer goes off, remove the bags from the water bath. Strain the contents of the bags through a fine-mesh strainer set over a medium bowl (reserve the butter).
Step 1
Transfer the shrimp to the bowl with the dressing. Toss to coat. Spoon reserved butter onto warmed rolls.
Step 2
Place 2 lettuce leaves on each roll with leafy edges facing outwards. Spoon shrimp on top of lettuce. Serve with lemon wedges. Enjoy!