Chef: Christina Wylie, Koh Samui Thailand
Christina Wylie is an award-winning writer, author, editor, food stylist, recipe creator, entrepreneur, and radio host whose work has been featured in The Times & The Sunday Times, Time Out (Melbourne, Sydney, Hong Kong and Dubai), Traveler's Digest, Fah Thai Magazine, Broadsheet, Wining & Dining and many other well-known international publications. In 2013, after nearly a decade working as an international journalist, Christina founded the online lifestyle magazine The GAB Magazine, where she now leads a team of 60 writers across the country. Australia.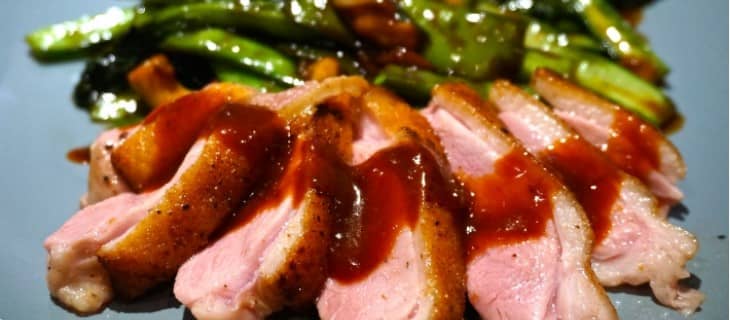 This duck recipe lets the moist, pink sous vide duck shine while providing a sweet dipping sauce to lift out the flavours. The greens add a nice bit of crunch and Asian authenticity.
Ingredients for 1
1 (6- to 8-ounce) duck breast
Salt
1 head baby bok choi, leaves separated from base
1 cup snow peas, trimmed
4 ounces shimeji mushrooms, separated from base
2 tablespoons oyster sauce
1 Thai chile, chopped
3 tablespoons water
1 tablespoon soy sauce
1 tablespoon hoisin
1 teaspoon black vinegar
Directions
Step 1
Set the BioloMix Sous Vide Cooker to 134ºF (57ºC).
Step 2
Heat a medium skillet over high heat for 3 minutes. Season the duck breast with salt and place in the hot skillet. Sear for 1 minute and transfer to a medium zipper lock or vacuum seal bag. Reserve the rendered fat in the pan.
Step 3
Seal the bag using the water immersion technique or a vacuum sealer on the moist setting. Place in the water bath and set the timer for 1 hour.
Step 4
About 20 minutes before the duck breast is finished, heat the oven to 410ºF (210ºC).
Step 5
Return the skillet to medium-high heat. When the rendered fat is simmering, add the bok choi, snow peas, mushrooms, oyster sauce, and Thai chile. Sauté until the vegetables have softened, about 5 minutes. Transfer to a plate and keep warm for serving.
Step 6
Return the skillet to medium high heat. Add the water, soy sauce, hoisin, and vinegar. Bring to a simmer and reduce until thickened, 2 to 3 minutes. Set aside.
Finishing Steps
Step 0
When the timer goes off, remove the bag from the water bath. Remove the duck from the bag and pat dry with paper towels.
Step 1
Heat a second skillet over high heat for 3 minutes. Add the duck, skin side down, and sear for 1 minute. Flip the duck and transfer to the oven. Roast for 4 minutes.
Step 2
Let duck rest for 5 minutes before slicing. Serve alongside the vegetables, with the soy-hoisin sauce drizzled on top.