Chef: Christina Wylie, Koh Samui Thailand
Christina Wylie is an award-winning writer, author, editor, food stylist, recipe creator, entrepreneur, and radio host whose work has been featured in The Times & The Sunday Times, Time Out (Melbourne, Sydney, Hong Kong and Dubai), Traveler's Digest, Fah Thai Magazine, Broadsheet, Wining & Dining and many other well-known international publications. In 2013, after nearly a decade working as an international journalist, Christina founded the online lifestyle magazine The GAB Magazine, where she now leads a team of 60 writers across the country. Australia.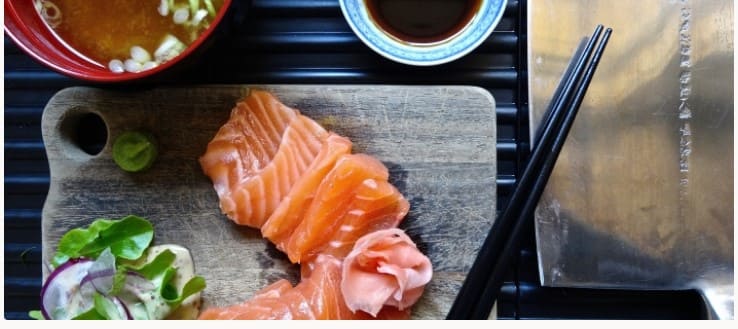 This is salmon 'sashimi', but oh-so soft. By 'cooking'/marinating the salmon at only 30ºC with just a touch of sesame oil, you're having it in just about the purest form you can (aside from having it simply raw). Though you always want to get the best quality raw fish you can, it's not always possible for a home cook. With that in mind, this recipe gives the humble, everyday salmon a gourmet kick. Just remember that because you're not cooking the salmon at high temperatures, you must make sure you use extra fresh salmon from a reputable supplier.
Ingredients for 2
2 (4- to 6-ounce) skinless salmon fillets
1 teaspoon sesame oil
2 (1-ounce) packets instant miso soup
4 ounces lettuce, chopped
1/8 small red onion, thinly sliced
1 tablespoon Japanese roasted sesame dressing
2 tablespoons pickled ginger, for serving
2 teaspoons wasabi, for serving
2 tablespoons light soy sauce, for serving
Directions
Step 1
Set the BioloMix Sous Vide Cooker to 86ºF (30ºC).
Step 2
Place the salmon fillets in their own small zipper lock or vacuum seal bag. Add 1/2 teaspoon sesame oil to each bag. Seal the bags using the water immersion technique or a vacuum sealer on the moist setting. Place the bags in the water bath and set the timer for 30 minutes.
Step 3
A few minutes before the salmon is finished, prepare the miso soup according to package directions.
Finishing Steps
Step 0
When the timer goes off, remove the bags from the water bath. Carefully remove the salmon from the bags and transfer to a cutting board. Slice into 1/8 inch (1/2 centimeter) slices and place on serving platter.
Step 1
Toss the lettuce and onion with the roasted sesame dressing.
Step 2
Serve the salmon with the miso soup, salad, soy sauce, wasabi, and pickled ginger on the side.
#BioloMix #sousvide