Courtesy of Karen Booth of Lavender and Lovage.
THÀNH PHẦN
1 túi (110 g) hỗn hợp rau xanh (mache, arugula / rocket, loại khác)
1 củ cải lớn nấu chín (gọt vỏ và cắt miếng vừa ăn)
3 ounce (225 g) cá hồi nấu chín sous vide, đánh vảy (hướng dẫn bên dưới)
2 clementine, bóc vỏ và phân đoạn (supremes)
4 muỗng canh (60 ml) crème fraiche
1 thìa cà phê (5 ml) wasabi, mới xay (dùng ít hoặc nhiều hơn tùy theo ý thích của bạn)
1 thìa cà phê (5 ml) mật ong
HƯỚNG DẪN
Trên đĩa phục vụ (hoặc một đĩa lớn), sắp xếp các loại rau trộn; thêm hạt nêm củ dền, cá hồi, và cuối cùng là supremes clementine.
Trong một cái bát nhỏ, đánh nhuyễn crème fraiche, wasabi và mật ong với nhau. Điều chỉnh gia vị, thêm nhiều mù tạt nếu muốn.
Rưới nước sốt lên món salad và dùng với những lát lúa mạch đen hoặc bánh mì bột chua ấm.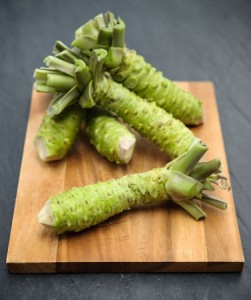 Để nấu vide sous cá hồi:
Đổ đầy và làm nóng trước lò nước BioloMix SousVide đến 140F / 60C.
Lọc bỏ xương cá hồi, nêm muối và tiêu nhẹ, cho các miếng cá vào túi nấu và hút chân không.
Nhúng (các) túi trong lò cách thủy để nấu trong 20 đến 30 phút.
Lấy (các) túi ra và cẩn thận lấy cá hồi ra.
#Biolomix #Sousvidelagi #MaySousVide #MaynauchamSousVide #MaySousVidegiabaonhieu
#Sousvidemeaning #Sousvide #CachnauSousvide #BanmaySousVide #Nauannhietdothap