Chef: Christina Wylie, Koh Samui Thailand
Christina Wylie is an award-winning writer, author, editor, food stylist, recipe creator, entrepreneur and radio host whose work has been featured in The Times & The Sunday Times, Time Out (Melbourne, Sydney, Hong Kong and Dubai), Traveler's Digest, Fah Thai Magazine, Broadsheet, Wining & Dining and many other internationally renowned publications. In 2013, after almost a decade of working as an international journalist, Christina founded the online lifestyle magazine The GAB Magazine, for which she now leads a team of 60 writers based all across Australia.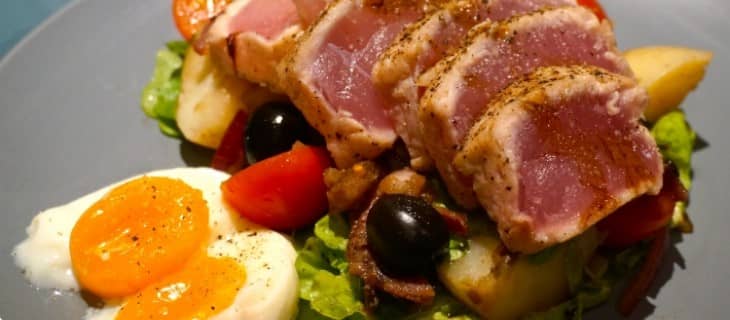 This take on a niçoise salad is just as light and refreshing as it is indulgent and filling. And that's because fresh flavours are combined with a whole hunk-a meaty tuna, a deliciously creamy sous vide egg and a couple of potato chunks for good measure.
Ingredients for 2
2 large eggs
2 medium red or Yukon Gold potatoes, sliced into 1-inch pieces
Kosher salt and freshly ground black pepper
1 tablespoon unsalted butter
2 (6-ounce) tuna steaks, at cool room temperature
3 tablespoons extra virgin olive oil
3 tablespoons balsamic vinegar
6 cherry tomatoes, halved
1/4 red onion, thinly sliced
1/4 cup pitted black olives, halved
8 anchovy filets
Directions
Step 1
Set the BioloMix Sous Vide Cooker to 167ºF (75ºC).
Step 2
Using a slotted spoon, gently place eggs in the water bath and set the timer for 15 minutes.
Step 3
When the timer goes off, gently remove the eggs from the water bath. Remove the eggs from the shell and slice the eggs in half, lengthwise. Set aside.
Step 4
Meanwhile, prepare the potatoes: Place potatoes in a saucepan and cover with cool water and a large pinch of salt. Bring to a boil over high heat. Continue to boil potatoes until they can be pierced easily with a fork, 5 to 10 minutes. Drain potatoes through a colander and let cool.
Step 5
Prepare the tuna steaks: Heat butter in a large, heavy skillet over medium-high heat. Season the tuna with salt and pepper.
Step 6
When the butter stops foaming, add the tuna steaks and sear for 30 seconds to 1 minute on each side. (Be sure to sear all 6 sides of the filet.) The tuna should still be raw in the middle; the cooked meat should only come up a few millimeters on the sides of the steaks. Transfer to a cutting board and let rest while assembling the salad.
Step 7
Make the dressing: Whisk together the oil, vinegar, and a pinch each of salt and pepper in a small bowl.
Finishing Steps
Step 0
Combine the cooked potatoes, tomatoes, onion, and olives in a medium bowl. Toss with dressing, saving two tablespoons dressing for the tuna. Divide between two serving plates.
Step 1
Lay the anchovies across the salad. Slice the tuna steaks and place over the anchovies. Add the egg halves to the plate. Drizzle the tuna with the remaining dressing, season the salad with salt and pepper, and serve.